Carl Sandburg's
Abraham Lincoln: The War Years. Volumes I-IV
First trade edition, Inscribed copy
"The greatest historical biography of our generation" –Mark Van Doren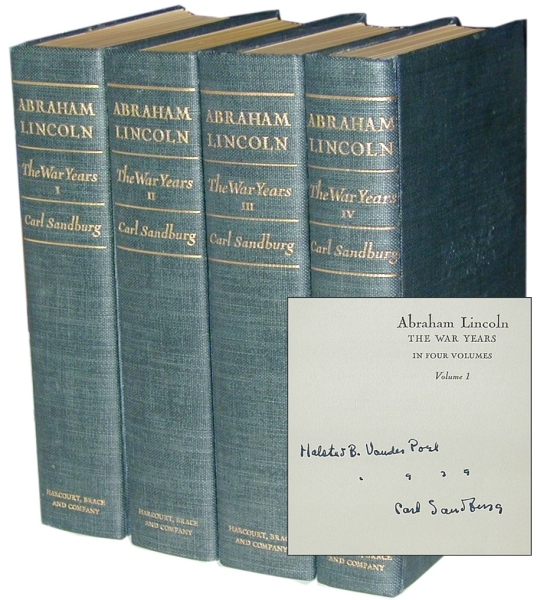 SANDBURG, Carl. Abraham Lincoln: The War Years. Volumes I-IV. New York:Harcourt, Brace, 1939. Octavo, original publisher's blue cloth, original slipcase. Four volumes. With 426 half-tone photographs, and 244 illustrations of important cartoons, letters, documents. $2000.

"Not often in the story of mankind does a man arrive on earth who is both steel and velvet, who is hard as a rock and soft as a drifting fog, who holds in his heart and mind the paradox of terrible storm and peace unspeakable and perfect. . . ."
—Carl Sandburg speaking before a Joint Session of Congress in 1959, on the 150th anniversary of Lincoln's birth

First trade edition of Sandburg's monumental study of Lincoln, signed and inscribed by Sandburg on the title page of volume one in the year of publication. Signed copies of the first trade edition of this work are far scarcer than the signed limited edition, of which there were 525 copies. Sandburg won the Pulitzer Prize for this much-celebrated work, the definitive biography of Abraham Lincoln. All volumes fine; slipcase intact with repairs.